Industry leaders share tips on hosting in-person events in 2021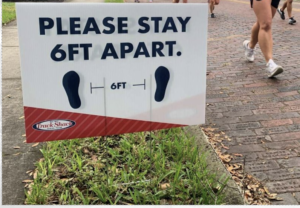 As we near the one-year mark of when the COVID-19 pandemic changed the world of running, event organizers are looking for ways to bring back in-person events safely this spring, even if at a much smaller scale than they're used to. Recently, a group of industry leaders shared their takeaways from in-person events that were held during a Race Management Program InfoShare webinar, and CEM is here to share some of the best practices that were discussed.
In many ways, races might never look the same as they have in the past; the pandemic has forced event organizers to rethink their operations and many of the initiatives implemented to prioritize health and safety are likely ones that will stick. However, road races have an advantage over other events as they have a designated start area where control is required from the moment a participant enters the event.
Social distancing within the event footprint
In order to keep an event safe and organized, one race director recommends evaluating the size of the event and the course first and building a start plan based on that. While event size limitations vary per state, social distancing is obviously easier with fewer participants. By focusing on the field peaks and where they will be on the course with the available space, you can craft the start area and wave sizes.
Similar to how CARA has organized their start areas recently, one race built out specific pace groups that started every five minutes. Each pace group was distanced from the others, and the people within the group were distanced by markers on the ground. In the last 500 feet leading up the start line, alleys were created with cones spread out 6 feet apart. This strategy reduced the peaks and spread the flow out.
The finish line is one area where social distancing might be more difficult to enforce. One director suggested putting all finisher items – the medal, hydration and fuel – in one bag so there is only one touchpoint with volunteers, and it makes the finish-area flow move quicker.
Sanitization and communication
Many events have already incorporated sanitation stations on course for both participants and event staff. One race director shared their strategy of introducing a "Clean Team" to the event staffing. This team was tasked with making sure participants, staff and volunteers were distanced, carrying masks and hand sanitizer for those in need, and communicated other event safety rules.
Education and communication are key in hosting a safe event. All event staff should be trained in the new health and safety procedures and be prepared to enforce them if necessary. If spectators are allowed, event staff need to hold them accountable on staying distanced and masked.
While rules with testing and vaccines are frequently changing, industry leaders recommend facilitating temperature checks whenever possible and making masks required for event staff and volunteers, and for participants until they cross the start line. 
Regardless of what mitigations you're implementing, be upfront with your plans to your participants and event staff from the beginning. Our environment is ever-changing, and frequent communications via email and social media will ensure there are no questions come race weekend. Increasing signage and announcements on site will keep everyone informed for the duration of the race.
Have you hosted an endurance event in the COVID-19 world? We are all navigating this time together and need to learn from each other. Share your tips with us at https://cemevent.com/contact-us/.