CARA's latest event provides promising outlook to future of in-person events, sustainability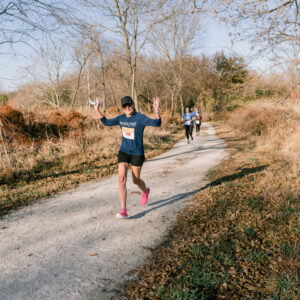 In November, the Chicago Area Runners Association hosted its first-ever trail race at The Forge in Lemont. This was CARA's second in-person event since the Coronavirus pandemic forced the pause of all live races in the spring, and Executive Director Greg Hipp notes the successes will help build strategies for bringing back more live events in the future.
"The trail event wasn't planned, but we were actively looking for potential events we could do during the fall that would be safe and follow state guidelines," Hipp explains. "We had a relationship with The Forge and they thought it was doable. We launched registration 10 days after that conversation and it sold out in three days. It came together really quickly and it's not necessarily the way we normally operate, but right now if we see an opportunity that's within our brand and mission, we have to jump on it."
Similar to the August track event, the CARA Autumn Trail Chase had pods for participants to stay socially distant in six groups of 50. Each pod was spaced 30 feet apart, and the start line set-up featured 25-rows of two cones, six feet apart. Every five seconds, two runners left, then everybody would move up six feet to the next set of cones. In just nine minutes, all 300 runners had begun.
CARA used flags, signage and cones to keep everyone separated, and from the moment a participant arrived, they were restricted to their pod.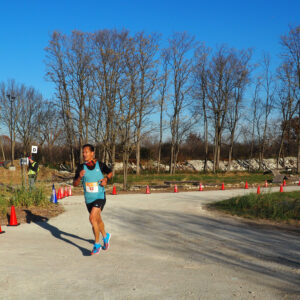 "It's a different environment with 300 people; normally that's a very small running event, but in 2020, it's quite large. There hasn't been anywhere with 300 people together in a long time so there is some uncomfortableness when you look at it," Hipp says.
In the post-event survey, 100 percent of participants felt all the guidelines were met and would do a similar event again. Hipp felt that sharing the entire plan on the website during registration made people feel safe before attending, which resulted in it selling out so quickly.
"People are craving in-person events but want to be kept safe. This certainly proves that an event can be done with COVID guidelines, the question is how to keep scaling up. We went from 150 to 300 from our last event, and I think you can do a lot with 50-person pods but eventually, you run out of time or space," Hipp adds. "We had a pretty long waiting list, almost as long as the registration list, but we had to be out of the park by 10 a.m. otherwise we would have ran waves all day."
One major takeaway from this event, according to Hipp, was to hire back-up volunteers and workers leading up to an event in case someone gets COVID or needs to quarantine. A few volunteers had to cancel last-minute for those reasons, so having reliable and flexible people on-hand was extremely helpful to fill the holes.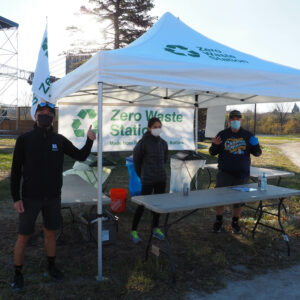 In addition to launching a new style of event, CARA also implemented a new sustainability initiative: a Zero Waste Station led by CEM. The Zero Waste Station allows participants to hand their waste to volunteers to be properly sorted into categories and help deter waste from ending up in landfills.
"We've had recycling units at past events, but never something as comprehensive as the Zero Waste Station," Hipp says. "We value the concept overall, but I also think it has a very direct tie to the types of people who come to trail events and their love for the outdoors and environment. We want to carry the concept to all of our races, but especially trail races."
The pandemic forced CARA to go cup-less at the water stations during its summer marathon training runs, and Hipp feels this is another sustainability strategy they will continue once the pandemic is over.
"We will never go 100 percent cup-less, but we used to use 20,000 cups a week at training, and in 2020 we used about 100 a week for those who might have forgotten a bottle," He explains. "COVID forced folks to learn how to carry a bottle, so now they know they can and will continue. Before COVID, going cup-less would have very mixed reviews, now it's an easier sell."
The Autumn Trail Chase was the first in the CARA Trail Series that will continue in spring 2021. Visit CARA's website for more details.