CARA hosted a successful socially distant in-person race. Here's how.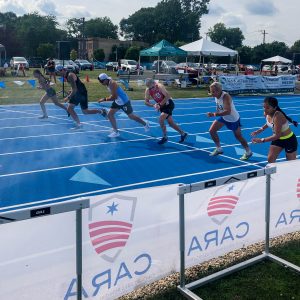 On Sunday, August 9, the Chicago Area Runners Association hosted its first in-person running event in months; Chi-Town Miles was a one-mile race on the outdoor track of Chicago Hope Academy. Each registered runner was part of a group with an assigned pod – a gated section outside the track – within the facility.  
In order to adhere to the state guidelines limiting gatherings to 50 people, runners were required to stay in their pod throughout the event, with the exception of their race time on the track. Participants raced against other runners in their pod. CARA Executive Director Greg Hipp said they got the pod idea from a marathon that was held in Colorado with a similar format.  
"It's a similar but more organized way than how we're doing training," Hipp said. "We were a day away from going virtual when the state changed [guidelines] to allow multiple groups of 50 as long as they don't interact, and we realized we could do it."  
Originally, the Chi-Town Miles event was to be held at Wilson Track and was to begin in the late afternoon with races every 10 minutes going into the evening. The middle of the track was going to be a gathering area including a beer garden.  
Unfortunately, Chicago wasn't permitting areas East of Lake Shore Drive, so CARA had to pivot to Hope Academy. Hipp says this worked out better in the long run as the gated venue provided more control to who can access the track and surrounding areas.  
"One of our biggest considerations was what can we realistically expect from participants," Hipp says. "We knew we had to have a plan for managing people other than the runners… it's hard to come up with a plan knowing when people will cross paths."  
Another important part of the plan was implementing a strategy for handling a participant who was not following the rules. CARA had marshals around the venue to manage any behavior that was outside the guidelines, such as not wearing a mask or a runner leaving their pod.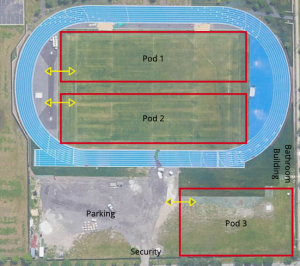 "Our biggest concern was that when the pods were overlapping times, so our operational plan was if someone in one group refused to leave, we would put the entire event on hold until they did so the next group could come in," he adds.   
Overall, Hipp feels the event accomplished CARA's goals. In a post-event survey, participants expressed that they were very happy with how the event turned out. CARA reports that 100 percent of participants felt safe, 98 percent enjoyed the experience and 98 percent would participate in a similarly organized event in the future. 
"Our numbers weren't high – about 150 people raced – but we hope that through word of mouth that it was safe and fun so people will be more comfortable in the future. We get that people are hesitant but having evidence that it can be done is helpful," Hipp says.