Transition into training with The Running Institute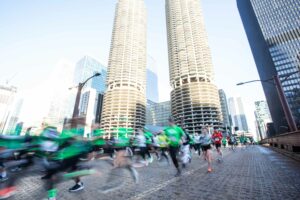 Spring has sprung and as we prepare for a normal season of racing and running outdoors more often, Dr. Michael Chin from The Running Institute in Chicago has some tips to be more mindful in your transition to training.
"When it's cold, people are training inside, and running on a treadmill is not the same as running outside and many are undertrained for their first event of the year," Dr. Chin says. "Especially after the pandemic and people were training inside and at home much more, strains and injury are much more common when they first get back to outdoor training."
Dr. Chin and his team at the Running Institute provides the following parameters to runners at the beginning of every season:
Treadmill training is not the same
While a great substitute for bad weather days, a treadmill does not require the same effort as running outside. For those who have been relying on treadmill training, they may find their first outdoor run or race feels much more difficult. Unfortunately, treadmill distances can often be 15 to 20% less than what it says, which may result in mileage undertraining. When adding incline, don't set it to too high of a level because the angle is not realistic to outdoor hills. Dr. Chin recommends staying between levels 2 and 5 to protect your knees.
Reevaluate your footwear
Dr. Chin found people are going barefoot more often as more are working from home, and he suggests investing in a house shoe. In fact, feet can change shape and size if they are not regularly wearing shoes, so Dr. Chin says runners should get refit the next time they are looking to purchase trainers. For those who are going into a workplace, ensure your shoe has proper support for day-to-day wear.
Don't neglect the warm up and cool downs
This tip is one Dr. Chin stresses to all runners at all times of the year: don't skip the warm up and cool down! Incorporating some dynamic warm ups will lower risk of injury during the run, especially for those who are working from home or sitting more than they used to. Cool downs are important to help your body slowly return to your normal heart rate and breathing.
The Running Institute offers the latest technology to accurately diagnose and provide the best and most appropriate treatment plan. Visit its website for a number of resources to dive deeper into each of these topics, including 5 Dynamic Moves to Wake up the Muscles and a Return to Running Program.