CEM hits the ground running in 2022 with the return of all events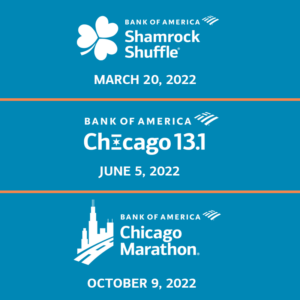 Happy New Year from Chicago Event Management! We are excited for what's likely to be a busy, event-filled 2022. So far, our team has already traveled to Orlando, Florida and Houston, Texas to help RunDisney and the Chevron Houston Marathon bring their races back in-person; the planning for our events is in full gear and we can't wait for each start line. Save the dates and learn more about our 2022 events:
Bank of America Shamrock Shuffle
Friday, March 18 – Sunday, March 20, 2022
Shuffle on this March with the return of the Bank of America Shamrock Shuffle! The streets of Chicago will turn green again with a weekend full of events for everyone. Kick off the fun at the reimagined festival at Buckingham Fountain on Friday, March 18 and Saturday, March 19, then test your speed at The Mile in Grant Park on Saturday. Add some distance to your weekend on Sunday, March 20 at the 8K Run or the 2-Mile Walk. The 8K Run course weaves through Streeterville, the Loop and the South Loop on a unique tour of downtown Chicago, while the 2-Mile Walk traces the iconic Lakefront Trail.
Unable to travel to Chicago for race weekend? Consider the Virtual 8K, which gives participants the opportunity to design their own course and run from anywhere between March 14 and March 20. Sign up as a participant here: https://www.shamrockshuffle.com/register/8krun/
If you want to be involved without running, our volunteer opportunities are now open! We have individual and group roles available; learn more and sign up today: https://www.shamrockshuffle.com/get-involved/volunteer-information/.
Bank of America Chicago 13.1
Friday, June 3 – Sunday, June 5, 2022
The inaugural Bank of America Chicago 13.1 will offer runners a uniquely Chicago experience, encouraging them to get out of the Loop and explore the neighborhoods of Chicago's West Side. A three-day health and wellness festival and race experience designed to showcase Chicago will take place Friday, June 3 through Sunday, June 5. More details on the half marathon course route and festival experience will be announced in the coming months.
Runners looking to enhance their experience can make their miles more meaningful by running on behalf of charity. The event's official Charity Program features six charity partners, each with a focus on youth and community development in Chicago.
Registration is now open! Runners are encouraged to sign up early to secure their spot in the 10,000-person race set for Sunday, June 5. Additional details about the 2022 event are available at chicago13point1.com. Volunteer information will be available in the coming months!
Bank of America Chicago Marathon
Sunday, October 9, 2022
The 2022 event will build on the success seen in 2021, when the race welcomed 26,109 participants across the finish line in Grant Park as the first Abbott World Marathon Major in the United States since 2019. Race officials are working closely with the City of Chicago, including the Chicago Department of Public Health, to produce a safe and enjoyable experience for event attendees and the Chicago community. Health and safety guidelines for the 2022 event will be shared in the months before the race.
After hosting a smaller field in 2021, we are excited to return to a larger field size of 40,000 on October 9. Individuals still interested in participating can secure their place in the field by joining an official charity team. Since 2002, the Charity Program has generated more than $265 million for local, national and global causes, including $21.4 million raised by runners in 2021. Secure a spot with the limited entries available now: https://www.chicagomarathon.com/apply/charity-teams/
We're hiring!
Join our team as we prepare to bring all our events back in 2022. Learn more and apply: https://cemevent.com/about-us/join-the-team/