CEM launches Sustainability Guidebook to help other events prioritize environmental impact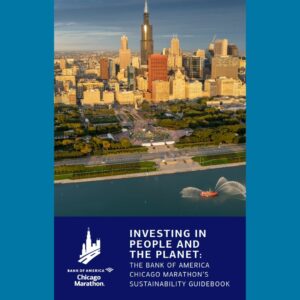 Chicago Event Management is not only committed to sustainability at our events, but to educating and inspiring others to take action and help in reducing our overall environmental impact. One of our major initiatives this year is the launch of the Bank of America Chicago Marathon Sustainability Guidebook. Whether you're just starting out or looking for new ways to take concrete steps forward in lessening your impact on the planet, the Sustainability Guidebook is designed to easily walk you through multiple areas where reductions or changes can be made.  
New event initiatives are highlighted throughout the guidebook, including our goal to reduce the amount of printed materials we produce each year. By sharing the Official Program and other guides digitally, 26 tons of materials will not be used, avoiding an estimated 237 metric tons of CO2e emissions from being produced and saving the wood used from about 438 trees. Environmental impact estimates were made using the Environmental Network Paper Calculator Version 4.0. 
Another new initiative for CEM's largest event is eliminating the carpeting that covers the exhibit hall floor for all participant common areas at the Abbott Health & Fitness Expo. By not using carpet in these areas, we are eliminating the greenhouse gas emissions produced from manufacturing, shipping, and cleaning the carpet. What are the avoided emissions by not using 300,380 square feet of carpet? Find out in the "Materials: Responsible Sourcing and Resource Management" section of the guidebook.  
Did you know the largest source of Scope 3 carbon emissions for events is from participant travel? New for this year we are encouraging all event attendees to consider offsetting their flight. The event has partnered with Cool Effect to offer an easy way to offset greenhouse gas emissions when traveling. To learn more about the projects and to offset your travel, click here. For more information on our investment in renewable energy, check out the "Carbon Management and Energy" section of the guidebook.  
Tata Consultancy Services (TCS), a partner of the event, is also committed to sustainability and to educating and inspiring others. Ignite My Future in School, one of TCS' pioneering STEM programs, is launching their third global collaboration this September. The project is open to all educators who want to teach their students about computational thinking while collaborating with classes from around the globe to solve a global problem. Students will use computational thinking to design solutions to the question, "How can we reduce, reuse, or recycle the waste that is created from large events like marathons?"   
If you would like to learn more about this project, join TCS for one of their information sessions:  
Teacher Information Session – September 9th, 6:30pm EST – 

Join the meeting

 

Register

 for the Global Innovations Project

 

If you have any questions please reach out to 

Kelli Recher

, Ignite My Future Program Lead.