New sponsor to help kick off return to racing in Chicago at Abbott Chicago 5K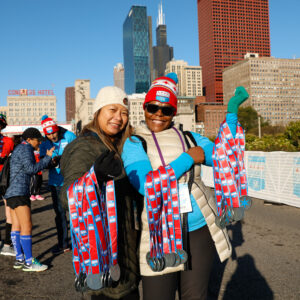 Chicago is more than just a big city. It's a city of neighborhoods and people that represent vibrant and diverse backgrounds and cultures. Every October, runners travel to Chicago to experience this incredible city by running through it at the Bank of America Chicago Marathon. The Abbott Chicago 5K is the perfect opportunity for both marathon participants to get in a shakeout run before 26.2, and fans of the sport to join the race weekend excitement.  
With a new title sponsor, the Abbott Chicago 5K will be the ultimate celebration of the return to racing on Chicago's streets with a course that weaves through downtown taking runners on a 3.1-mile journey past iconic Chicago landmarks. Participants will receive a commemorative country flag bib number, knit beanie and finisher medal. 
The Abbott Chicago 5K is proud to support the American Diabetes Association (ADA) in its fight to bend the curve on the diabetes epidemic and help people living with diabetes thrive. In recognition of each runner's participation on race day, the event will make a two-dollar donation to the ADA for every participant who crosses the finish line. Learn more and consider donating today. 
We are also recruiting volunteers for this year's event! Help out at the Abbott Health & Fitness expo at bib pick-up or join us in the start and finish areas race morning. Learn more here.  
Finally, we are excited to give our CEM friends a special discount to participate in the 2021 Abbott Chicago 5K! Use code BLOG for $5 off your registration. Sign up by 8/20 to include your country's flag on your bib, and have your bib number and commemorative knit beanie mailed to you. International participants and U.S. residents who register following the deadline must pick up their bib number and commemorative knit beanie on Friday, October 8, at the Abbott Health & Fitness Expo.