Celebrating National Volunteer Week with CEM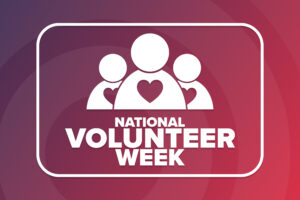 It's National Volunteer Week! We are so thankful for all of the dedicated volunteers who help out at our events each year and can't wait to see them out on the scene again soon.
CEM is always looking for ways to give back, and each year dedicates more than 270 hours to staff volunteer projects by providing each employee with volunteer time off. Many CEM-ers have already used their Volunteer Time Off in 2021 and shared their experiences below.
"On March 9, I virtually volunteered for the Protect Chicago COVID-19 Texting Outreach through Chicago Cares. I was thrilled to find a virtual opportunity that also involved COVID awareness for Chicagoans in targeted zip codes. As a group, we sent and responded to over 38,000 texts in three hours! It was a rewarding experience. It was also a reminder that people are struggling to schedule appointments for vaccinations and the frustration they felt." – Brooke Lord, Executive Assistant
"I used my VTO day at Lincoln-Way Special Recreation Association, which is an organization in my community that provides programs and services for individuals with physical or intellectual disabilities while promoting greater disability awareness in the community. Typically, the organization hosts an annual Easter breakfast fundraiser. However, due to COVID-19, they were not able to host the in-person event this year. Instead, LWSRA hosted a fundraiser that included selling Easter Baskets that will be delivered to recipients by the Easter Bunny throughout Easter weekend. I spent my VTO day helping prepare over 400 Easter Baskets. I was happy to be a part of the packing day and hope to be back volunteering at LWSRA soon!" – Samantha Furlong, Volunteer Program Coordinator
"I gave blood with the American Red Cross at my local Ann Arbor location.  I spent the rest of my day making picture puzzles for Henry's school.  It was a time-consuming project the teachers didn't have time to do. It involved taking printed pictures of the kids and them cutting them up and laminating those pieces and creating puzzles out of each of them.  They used it for an activity that was fun that let them find their own face, put it together and then they discussed what they noticed was the same or different about each of their faces to promote talking about diversity and differences. Henry noticed that he and four others at the table have blue eyes but he is the only one with blue eyes and dark hair. I hope to donate blood a few more times this year and I hope I can volunteer in my kid's classroom in the future when I am vaccinated and there are less COVID precautions." – Jenna Olson, Executive Vice President, Finance & Administration
If you're looking for opportunities to volunteer in your community, check out Chicago Cares and VolunteerMatch.
Since we haven't been able to come together on Chicago's streets for some time, we asked some of our past volunteers why they love volunteering for inspiration. Read the following quotes to inspire you to volunteer with us this season!
"Helping and watching people meet their goals and life dreams." 
"The social aspect, seeing and talking to people from all walks of life."
"The thrill and excitement of the runners, the crowds, spectators cheering, the music, cow bells, etc. The sunshine too!"