Chicago-based World Bicycle Relief donates bikes to healthcare workers educating on COVID-19 prevention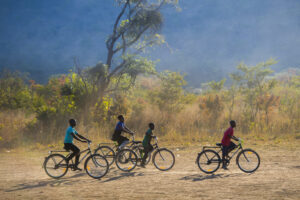 As a Chicago-based organization, World Bicycle Relief [WBR] has prioritized engagement in local communities since its founding in 2005. CEM has a long-standing relationship with WBR, as more than 30 cyclists are recruited from them each year to serve as course marshals and ensure the safety of participants at our events.
"We want to be as engaged with the Chicago community as much as possible," says Colin Taylor, Director of Partnerships at WBR. "There's a lot of similarities between a footrace and biking: you shut down an area and there are athletes doing things on a course. And there's a lot of overlap between the type of folks doing footraces and our supporter audience: they tend to be interested in world issues and are active and curious."
However, Chicago is just the beginning of the WBR reach. In fact, what the organization is most known for is its Buffalo bicycle, which is built to "help conquer the barrier of distance" for populations in developing countries, Taylor explains. The rack on the bike can carry 220 pounds and is built to last for up to 10 years.
"It's a life-changing tool; it allows school kids to get to school by bike, healthcare workers to have access to visit patients on bike vs. foot, and entrepreneurs to transport goods," he adds. "Buffalo bikes have been around for 130 years but are still revolutionary. We make a good sturdy bike and put it in the hands who need it most."
In 2019, WBR built its 500,000th bike, and Taylor says their goal is to get to 1 million even quicker. WBR now sends Buffalo bikes to five countries and works with the World Health Organization who purchases them in bulk. Locally, WBR has a charity team for the Bank of America Chicago Marathon which helps raise enough money to build 150 bikes, enough for an entire school. The bike marshal team also receives a volunteer donation which goes towards the bike production.
Amidst the coronavirus pandemic, WBR has been able to provide nearly 3,000 bikes to healthcare workers in Africa to help educate their communities about COVID-19 prevention and mitigation. Originally, those bikes were allocated to school kids, but with schools shut down WBR relied on their existing connection with volunteer healthcare workers in Africa who had been previously trained in HIV and AIDs prevention education.
"We were really fortunate to have bikes that were ready to be used immediately," Taylor said. "It's a testament to the work they've done with the networks of volunteer and part-time medical folks who have been doing this work on HIV and AIDs for 25 years."
Learn more about WBR's origins and impact, and make a donation if you can, at their website: worldbicyclerelief.org.