How to make your virtual run sustainable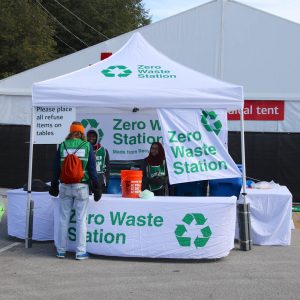 Zero Waste Stations (ZWS) are tents located at our events where you will find Green Team volunteers collecting and sorting waste. Designed not only to ensure the waste we generate gets diverted from the landfill, we hope to inspire individuals to take action at work, school and home.
Though we may not be present to collect waste at your virtual race event, there are many ways to incorporate our best practices into what you do. Here are our recommendations for making your virtual run more sustainable.
Create your own water filling station: Reduce the use of single-use plastics by carrying a collapsible or reusable cup to fill up along your course route.
Donate to community gardens: Organic waste can be turned into nutrient-rich compost and donated to local community gardens. Help support your local community garden by volunteering. Search for volunteer opportunities in your community. chicagocommunitygardens.org/volunteer/
Volunteer at a food bank: Many food banks have an urgent need for volunteers to help pack food for their Covid-19 response. Local Chicago Area volunteer opportunities can be found here; search for US volunteer opportunities here.
Support a charity: Help out charities in need, by participating in the 2020 Bank of America Chicago Marathon Virtual Experience and donating to one of the event's official charity partners. Make a contribution here: chicagomarathon.com/virtual-experience/give/
Clean up: Volunteer for an environmentally friendly event near you such as a beach cleanup or help keep your running routes clean by "plogging". On your run, glove up and if you notice garbage, pick it up and dispose of it in a recycling or garbage bin near you.
Choose running gear made from recycled materials: Research gear made from recycled plastic bottles, giving materials new life and reducing greenhouse gas emissions in the manufacturing process. When recycled materials are used to make a new product, natural resources and energy are conserved since the raw material has already been refined and processed once.
Recycle plastic bags and old Heatsheets: Plastic shopping bags are made from the same material as Heatsheets, LDPE #4, and can be recycled with your plastic bags at many retail locations throughout the United States. With so many different materials being accepted at retail store drop-offs, here's a great list that provides examples as well.
Reduce the use of printed materials: Instead of printing your bib number for a virtual race, consider using a paperless version, substituting an iPad for photo opp (Jeff Moyle, #aroundtheblock5k) or photoshop a picture of your race bib onto your shirt.
Donate used clothing: Consider donating your gently used clothing, keeping it out of the landfill and providing garments for those in need.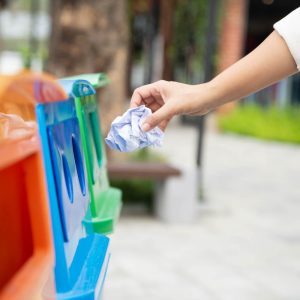 Wear reusable face coverings: Unfortunately, the sheer number of disposable masks and gloves being used is posing an environmental risk as they make their way into our waterways and oceans. Consider wearing reusable masks when possible and throw used disposable masks into the trash. For a fee, Terracycle offers Disposable Glove Zero Waste Pouches and Boxes, a program we adopted for our used disposable gloves.
Something we always do before an event ensures we know what waste we will be generating and consider all options. To get a better idea of what you consume, start with a waste audit! Once you know what waste is generated, you can look into ways to reduce, reuse and recycle. Knowledge is power, so keep up to date on what is happening in the recycling movement through resources like the Chicago Recycling Coalition and Waste Dive.
Additional Recycling Resources
Since recycling varies by municipality and state, check with your local services to see what is recyclable in your area.  Not sure where to get started? Check out this handy recycling guide by the city to help sort your waste at home. Another great resource, especially when you're not sure what is recyclable and where to recycle materials, is Earth911.