Support your local farmer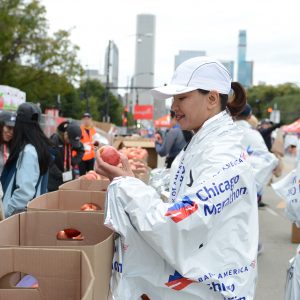 Did you know many local farmers are struggling with drops in restaurant sales, wholesale orders and sales to events? While some have pivoted to online and home delivery efforts with some success, these efforts can be much more labor-intensive. Results from a recent survey of small, independent farmers indicate nearly one-third of respondents are facing potential bankruptcy in 2020. Here are some ways you can help.
Purchase locally grown produce
Last year, 45,000 Michigan apples were distributed at the Bank of America Chicago Marathon finish line by volunteers, providing a locally sourced and healthy treat to refuel runners in the Runner Refreshment area. Many local farmers practice sustainable or organic growing practices, potentially boosting nutrients in the fruit and vegetables they sell as well as protecting the environment and soil where they are grown. Heirloom varieties not usually found in stores offer tasty alternatives.
Support Farmers Markets
Celebrate farmers markets during National Farmers Market Week August 2 to August 8. It's a great opportunity to meet your local farmers and pick up some great locally grown produce.
Most Chicago City Markets are now operational; check here for hours and locations. Independent farmers markets in Chicago abound. Rules have changed, from limiting the number of people into the markets to not handling the produce until after purchase. A complete list of COVID-19 rules for Chicago Farmers Markets can be found here.
Farmers Markets online: there is an app for that! WhatsGood provides an online marketplace to connect buyers with local farmers and vendors.
For those of you who used the farmers markets to drop off your compost, Green City Market has a drop off program again this year, or you can drop off at Healthy Soil Compost located at 2501 W Chicago Avenue on Saturdays only from 12 p.m. – 3 p.m. for $10/five gallon bucket and $5 for additional five-gallon amounts.
Pick your own
Many orchards offer Pick-Your-Own fruit, providing date and time slot purchases in advance to limit the number of people and adhere to social distancing and other COVID-19 mandates. It's a great family outing and there is nothing better than eating fruit picked directly off the tree.
Blueberry season is winding down, and peach season is at its peak. Southern Illinois peaches are some of the best in the country, with many orchards offering you-pick options. Apple season is quickly approaching, with some varieties already available.
Community-supported agriculture
Community-support agriculture (CSAs) are a great, cost-effective way to have an abundance of fresh produce in your home throughout the season. In exchange for an upfront payment to a grower, CSA participants receive shares of the produce or meat produced by the farmer. Most CSAs offer weekly or monthly boxes of assorted produce and provide a specific place and time for pick up. Contents vary from week to week, with many farmers providing recipes for preparing vegetables that may be unfamiliar to you. A CSA directory can be found here.